It was in 2019 October, We (myself, Eldho, Niju, Achus, Remin and Ruble) decided to go for a one day trip. We planned to visit marmala water falls at Teekoy and Illickal Kallu. Everyone were coming from different places on bike. Me and Eldhose started from piravom with my bike. Our common meeting point was Pala, near KSRTC stand. We had breakfast there and moved to our destination, Marmala falls. On the way we noticed a a shop who were frying tapioca chips, me and eldhose bought some half kg. Initially we thought like we have it once we reach thre, but its smell was luring. So after few minutes, we lost our control and opened the packet,  we enjoyed snaking it while driving. We shared the packet with other people and they also liked it.
We reached marmala somewhere near 10.30am. Right after viewing the waterfall, I felt like, its a dangerous one and decided, I wont get in to the waterfall, instead will enjoy the beauty. I borugh my camera and took pictures of all. Remin's sister was alsoe there. By that time everyone except remin's sister and me started playing in the waterfall.
The funny thing was none of them knew swimming, only one who swim in the group was me. They invited me to join with them, but I was not at all interested. While I was enjoying the beauty, a foreigner came there with two kids. The kids were of age of three  (younger girl ) and 5 (elder boy). They started playing in water and then started swimming. The five year boy was swimming along with his father and the girl was on the top of father holding him from the back. Viewing this scene, from my inside, i was feeling shit! I used to swim since childhood, used to swim through ponds, river and play in Areeckal water fall  (nearby my home).
This ego pushed my mind and I slowly get in to the water. It was very cold, but i didnt find it as a danger. I took two rounds through the water fall, as show in the picture below, starting from the position where the guys are standing. (Manorama news is the motivation behind this route map :D). It was nice and I felt overwhelmed, a feeling of pride passed through me.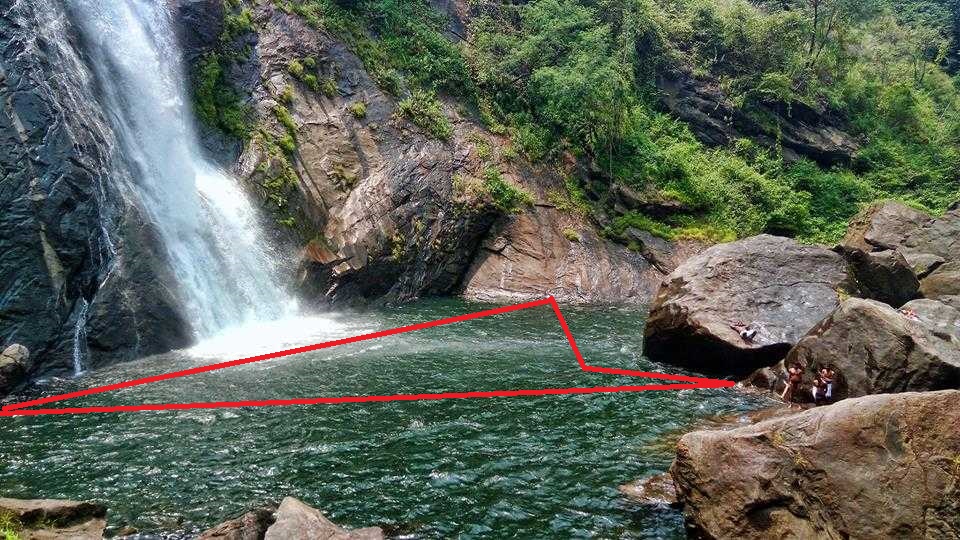 And my frineds, who were not able to swim was asking teach them swimming and i tried explaining them how to swim. We spent some time around 10-15minutes in water, I must stress cold water. Then I felt like, swim one more round and lets go. So I started the same route, but right at the point marked in circle in the below image, my both hand's muscles cramped, and I was unable to swim, I was unable to move. I realized the danger. It ws due to the coldness of the water, I spent almost 15 minutes in water and then tried to swim and so my muscles were not able to hold the coldness anymore.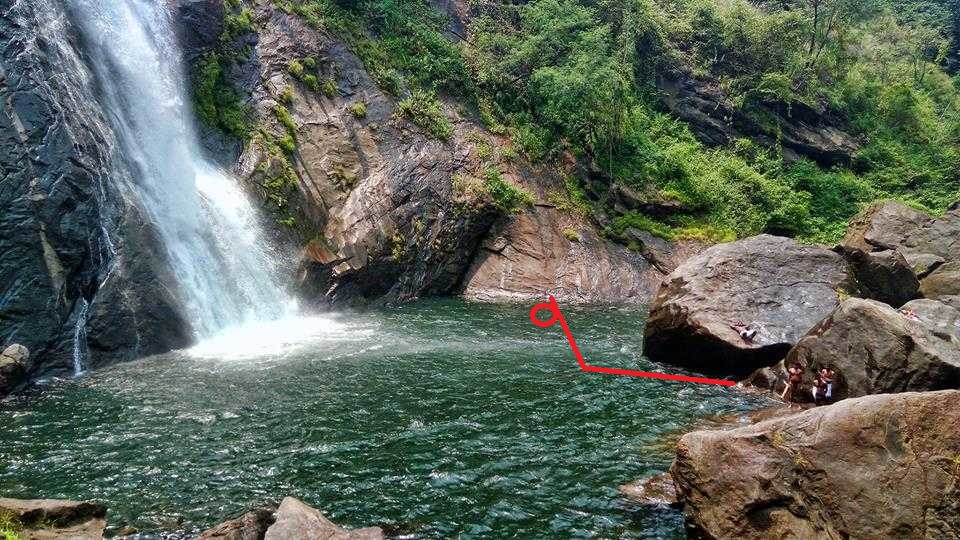 The situation was very serious, I was not able to move, not able to move my hands and I was stuck at one single point. I lost my confidence and was viewing my death. I thought about child Tessy, my wife grace maria. I was about to drown, but from somewhere i gained my confidence. I managed to balance over the water with my moving my legs and i made it. Thanks to my mom who brought us to pond nearby our home and taught us swimming .
On the other side I can see, my friends, all viewing me thinking what to do. They were helpless! I was very close to the rock, but it was slippery. I tried holding on rock multile times, but failed. And I started yelling like give me some rope or cloth so that I can hold it . But they were totally helpless. I slowly realized that  I may not be able to withstand any more. But suddenly somebody came over the rocks and throw me one side of his turkey towel. I grabbed it immediately and those two guys helped me to came out of water and brought me above that rock. All my energy exhausted and the sun was right over me. It was an amazing feeling, merely escaped from death. After few minutes i realised that the two guys were from alappuzha whom I met during my first round of swim. But they left the place even before i was able to thank them. I dont know who they, i dont remember their face but I couldn't forget that help.
I took a deep breath and lied over the rock for 10 minutes to regain my energy. After that I reached the other sides through the rock and met my friends. I can see a huge relief over their face. Then Only I came to know that, Eldho Joseph, jumped in to the water to help me shouting Chetaiiiii….. (brother…). Later somebody helped him to get out of the water , he didn't know how to swim, But it touched my heart. Love you bro 🙂
After the incident we moved to Illickal Kallu, spent some time and returned to home.
I visited marmala again with another set of friends during 2021 September on our return journey from vagamon. It was more dangerous now, may be due to heavy rainfall at marmala. The local bodies or government haven't done any efforts to make it a safe place for the visitors. But some body raised few hoarding explaining the danger.
I must say Marmala waterfall is amazingly beautiful but it is extremely dangerous as well.
A piece of information: Swimming in Waterfalls and Dam is risky  due to its cool water temperature. Your muscles maynot be able to withstand it for more time.